S

CENARIO

V

IEWER

::

D

ATA

D

OWNLOADER
GETTING STARTED: Select a project from the list
How to navigate the viewer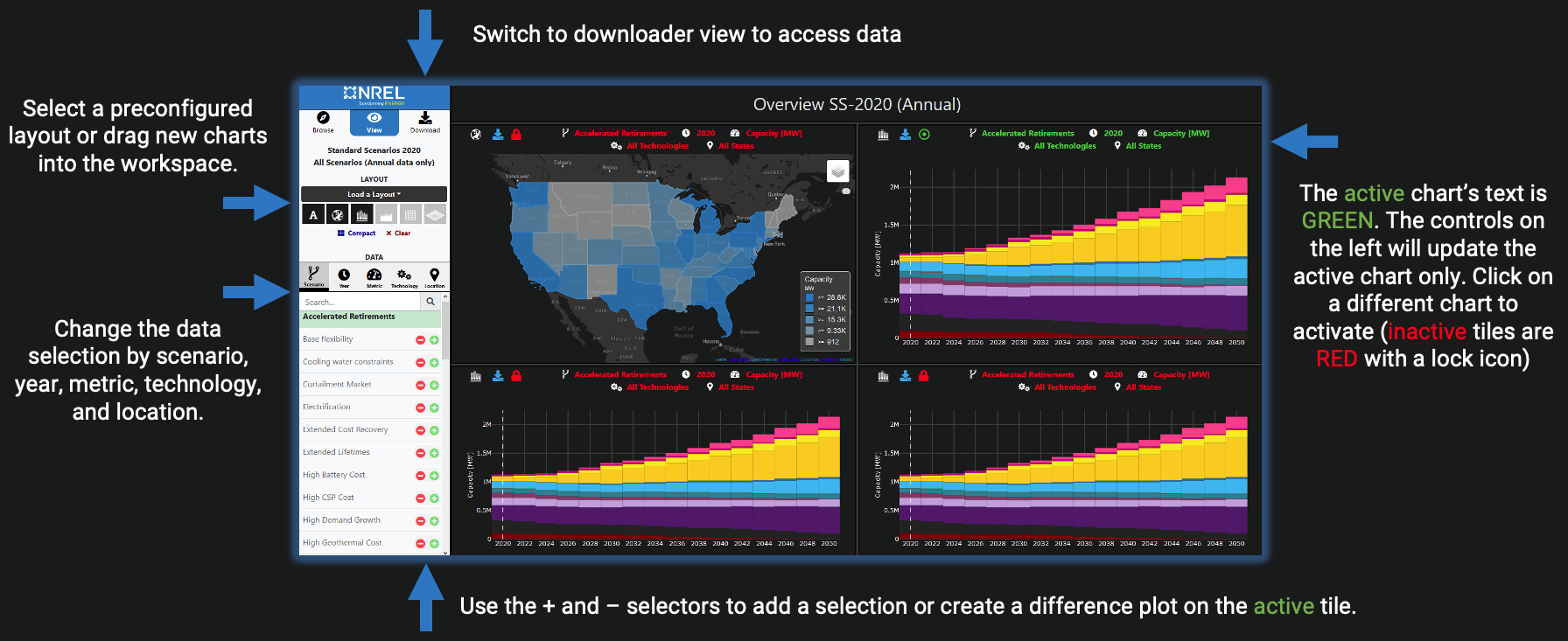 Disclaimer
These data sets, tools, or methods ("Methods") are provided by the National Renewable Energy Laboratory ("NREL"), which is operated by the Alliance for Sustainable Energy LLC ("Alliance") for the U.S. Department of Energy (the "DOE").
Disclosure of these Methods is provided under the following conditions and warnings: (1) these Methods have been prepared for reference purposes only; (2) these Methods consist of or are based on estimates or assumptions made on a best-efforts basis, based upon expectations of current and future conditions at the time they were developed; and (3) these Methods were prepared with information available at the time their development and are subject to change without notice.
The user understands that DOE/NREL/ALLIANCE are not obligated to provide the user with any support, consulting, training or assistance of any kind with regard to the use of the Methods or to provide the user with any updates, revisions or new versions thereof. DOE, NREL, and ALLIANCE do not guarantee or endorse any results generated by use of the Methods, and user is entirely responsible for the results and any reliance on the results or the Methods in general.
USER AGREES TO INDEMNIFY DOE/NREL/ALLIANCE AND ITS SUBSIDIARIES, AFFILIATES, OFFICERS, AGENTS, AND EMPLOYEES AGAINST ANY CLAIM OR DEMAND, INCLUDING REASONABLE ATTORNEYS' FEES, RELATED TO USER'S USE OF THE METHODS. THE METHODS ARE PROVIDED BY DOE/NREL/ALLIANCE "AS IS," AND ANY EXPRESS OR IMPLIED WARRANTIES, INCLUDING BUT NOT LIMITED TO THE IMPLIED WARRANTIES OF MERCHANTABILITY AND FITNESS FOR A PARTICULAR PURPOSE ARE DISCLAIMED. IN NO EVENT SHALL DOE/NREL/ALLIANCE BE LIABLE FOR ANY SPECIAL, INDIRECT OR CONSEQUENTIAL DAMAGES OR ANY DAMAGES WHATSOEVER, INCLUDING BUT NOT LIMITED TO CLAIMS ASSOCIATED WITH THE LOSS OF DATA OR PROFITS, THAT MAY RESULT FROM AN ACTION IN CONTRACT, NEGLIGENCE OR OTHER TORTIOUS CLAIM THAT ARISES OUT OF OR IN CONNECTION WITH THE ACCESS, USE OR PERFORMANCE OF THE METHODS.
The user agrees to credit the U.S. Department of Energy (DOE)/NREL/ALLIANCE in any publication that results from the use of the Methods. The names DOE/NREL/ALLIANCE, however, may not be used in any publication in such a way as to endorse any results generated by use of the Methods, or in any advertising or publicity to endorse or promote any products or commercial entities, unless specific written permission is obtained from DOE/NREL/ ALLIANCE.
Contact